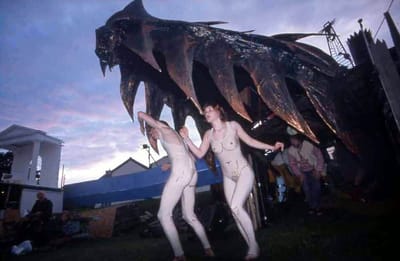 In September 2021, at the historic Plen an Gwari site in St Just, we will be holding a two week festival of open air repertory performances of all three Ordinalia plays, and Cornish language and theatre Workshops.
Under autumn sunsets and the dark skies of West Cornwall, we shall be creating a true celebration of Cornish cultural life. Our funded project will start next spring with a series of exhibitions and taster sessions across Cornwall, to coincide with the loan of the Bodleian Ordinalia manuscripts to Kresen Kernow, Cornwall's new archive centre.
We will be storing and preserving our costumes, sets and equipment, and maintaining a complete blueprint and archive of activities to enable the Ordinalia to be performed in St Just every three to four years thereafter, as a permanent event on the Cornish cultural calendar.
The Ordinalia play texts represent a Cornish heritage that has survived the Reformation and the destruction of the magnificent college at Glasney which created them; the whims of erratic kings and queens, the very Church itself, political rivalry and puritanical governments, rebellions, civil wars, world wars, and the loss of all but two of the playing places they were created for. In all their long history, nothing and no one has managed to suppress and stifle these plays, which can still speak to and move modern audiences.
We are a company of professionals, semi-professionals and talented volunteers who will create a community led production in an historic setting. A core group of people who were involved with the 2000 - 2004 productions are helping to lead the project, and to build upon and transfer experience and expertise to a new generation. We have opportunities for work shadow, paid and volunteer roles with our exciting project.
The legacy of our productions will benefit schools, the community, the Cornish language, tourism and will showcase the talents of the many participants who work with us.