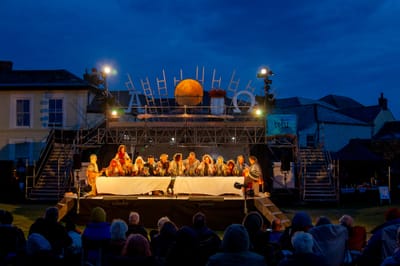 'This was a successful, major community event that could not fail to arouse intense admiration and not a little envy from any outsider' - Professor Sally Mackey, Royal Central School of Speech and Drama, University of London
'The spirit of St Just's Ordinalia should be bottled up and made available on the National Health'
Ted Lean, Project Director
The cast of the 14th Century Ordinalia trilogy performances this September delivered, with spades, the aim of the original plays to impress the Christian bible stories on the local population. With creative, moving, dramatic, witty and farcical scenes adapted from the original by local playwright Pauline Sheppard, the actors performed at the top of their game.
Supported by a 34 strong choir led by Choir Director Vicky Abbott, who had written all new scores in Cornish for this 2021 production, and the 15 strong band led by Band Director Ben Sutcliffe the exquisite music emanating from beneath Heaven brought a depth and richness to the production. Over 150 costumes were needed for the three plays, designed with flair and originality by Meier Williams and pieced together by Bridget Gibbs, Sara Rose Whetherly and their team of sixteen. Eleven stages, 'Mansions' according to the original medieval texts, were designed by Graham Jobbins and built by his 27 strong team of set makers - the spectacular jaws of Hell unleashing fire and brimstone next to the grim Torturers' Mansion, and flanked by Pilate's palace.
Each of the 3 plays, had their own professional Director and Assistant Director - Oliver Gray and Isobel Bloomfield for Origo Mundi; Jason Squibb and Tori Cannell for The Passion; and Jennifer Fletcher and Kylie Skye Sullivan for The Resurrection. Jason Squibb was Artistic Director for all three plays, and Mary Ann Bloomfield was Producer.
This wide range of action involved some deft footwork from the technical crew - Vicki Cox as Production Manager supported by Nicky Wood as Stage Manager; Ethan Kent as Lighting Designer (with Lucy Gaskell in support), Millstone Sound's team of George and Tom; and the ever smiling Box Office presence of Kate Stebbing-Allen.
The contribution of the St Just community to this extraordinary celebration of Cornish heritage and culture cannot be underestimated. Over 230 volunteers came forward and helped make the 15 performances over a 2-week period an absolute triumph. And despite a few brief soggy moments, the moon and starlit autumn skies added a dramatic backdrop to the subject matter of the plays. The final moments of The Resurrection on the last night will stay in the minds and memories of the audience for years to come, especially the saxophone solo in Heaven.
The Ordinalia plays, although similar to the mystery plays of the North of England, are unique to Cornwall and an important part of the heritage of St Just in Pendeen, and the far South West. They are the oldest surviving trilogy of theatrical plays in Britain. St Just's Plen an Gwari is one of the two oldest working open air theatre spaces in Britain.
All photos of the 2021 productions used on this site were taken by Mike Newman and Steve Tanner