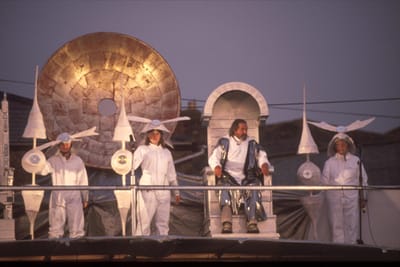 An Tas a Nev y'm gelwir, formyer puptra a vydh gwrys. Onan ha tri on yn hwir, an Tas ha'n Mab ha'n Spryt
I am called the Father of Heaven, Creator of everything that is made. We are truly three in one, the Father, the Son and the Spirit
(Origo Mundi, verse 1)
The Ordinalia Cycle of scripts and stage plans consist of 3 plays written in the late 14th century: The Creation of the World (Origo Mundi); The Passion (Passio Domini), and The Resurrection (Resurrexio Domini). The aim of the original performances was to impress the Christian bible stories on the local population, and so they were performed by local people, with local place names, jokes etc. to have general appeal.
The three plays together cover the whole scope of the bible stories from the beginning of the world to doomsday.
The plays, although similar to the mystery plays of the North of England, are unique to Cornwall and an important part of its heritage. They are the oldest surviving trilogy of theatrical plays in Britain.
The plays were written in medieval Cornish with Latin subtitles by the clerics of Glasney College in Penryn, when Cornish was the predominant language spoken in Cornwall, to teach ordinary people the stories of the bible in an accessible and appealing manner. Only three manuscripts still exist, two of which are held in the Bodleian Library in Oxford, and one which is in the National Library of Wales.
In July 1969, Bristol University Drama Department performed the Ordinalia cycle at Perran Round, Perranporth. This was believed to be the first production of the Ordinalia for 300 years
From 2000 to 2004 the St Just community instigated a series of productions of the Ordinalia Cycle of plays. These productions involved over 150 community volunteers (across a multi- faith /no faith sector) as actors, musicians, choir, makers and crew. Each play consisted of a circle of eight stages (mansions) with large set pieces on a central stage e.g. Noah's Ark, the Crucifixion. Our modern playwright, guided by the 14th century stage plans & scripts produced highly engaging and successful plays accessible to all.
A small paid production team comprised of skilled local professionals with an eye for detail and authenticity of staging, ensured high quality, spectacular results. The plays attracted larger audience numbers each year, with over 15,000 people coming to see them.
St Just's Plen an Gwari is the oldest working open air theatre space in Britain.