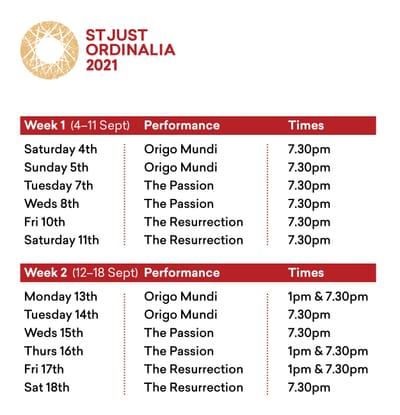 Performance Bookings
are now on sale for the two week run of plays from 4th - 18th September in the outdoor amphitheatre at the Plen an Gwari, St Just.
These medieval plays are part of a wider two-week festival celebrating Cornish culture and heritage.
Tickets for the plays and festival are available now.
Head to Hall for Cornwall's website to book.

Staging the Ordinalia in the 21st century – free online talk
Join Jason Squibb, Artistic Director for the 2021 St Just Ordinalia production, for a free online talk on the current production and reflections on past performances. Hosted by the fantastic Kresen Kernow, this talk looks at how St Just has put theory into practice, and how a community event from 600 years ago still resonates today. The talk is free and will be delivered on Zoom.
Read more and register for the event
here.